Our Aluminium Door Installation Services
Are you looking to update your home with doors that are stylish, versatile and easy to maintain? From aluminium sliding doors, to French doors and stacker doors, we have a range of styles available to suit every Brisbane home.
Virtually maintenance free and oh-so-easy to operate, aluminium doors allow you to open up your home to cool breezes and fresh air, while welcoming more light in during the day. External aluminium doors create easy access to outdoor areas all year round.
What are Aluminium Doors?
Aluminium doors have a thick aluminium frame which offers strength and durability, along with thermal and acoustic properties. There are several options to choose from when considering aluminium doors, including sliding, stacker or French doors.
Not sure what style of aluminium door is right for you? Start by considering how much space you have available and what kind of atmosphere you'd like to create in your home.
Aluminium sliding doors are highly versatile, available with either one fixed and one sliding panel, or two fixed panels at each end with a centre opening.
Aluminium French doors are ideal if you are looking to bring an elegant touch to a new or older home, and are particularly suitable if you only have a narrow opening for a new door.
Aluminium stacker doors feature panels that slide behind each other. These are perfect if you are looking to create a grand impression or fill a larger opening.

What are the Benefits of Aluminium Doors?
Aluminium doors offer many advantages for a Brisbane home.
Installing aluminium doors will upgrade your home's security with the introduction of deadlocks or a Crimsafe security door screen to complement the aluminium door frame.
Ideas for updating your Brisbane home with aluminium doors:
·          Cut down existing windows and install aluminium French doors or stacker doors to bring more light and fresh air into your home
·          Turn your windows into doors to increase access to outdoor areas or improve views to your garden
We can usually colour match your new doors to existing windows for a consistent aesthetic.
Request a Free Quote!
Get Quote
How Long Do Aluminium Doors Last?
Aluminium frame doors are exceptionally durable. Due to aluminium's lightweight nature, door frames can be made thicker and stronger. In addition to this, aluminium is corrosion and weather resistant, making it the perfect choice for homes in Australia.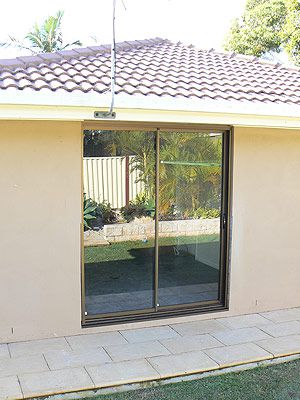 Why choose our installation services? 
At Gallagher Brothers Aluminium, we have years of expertise and outstanding results in aluminium doors installation across Brisbane.
Our extensive experience allows us to advise you regarding the best external aluminium door options for your unique needs. Our supply and install service ensures you will enjoy a smooth and easy process from the initial quote to job completion. Having aluminium doors in your Brisbane home has never been easier.
Aluminium Door Installation FAQs
Can aluminium doors be painted?
Aluminium doors can be painted with just about any type of exterior-grade paint, making it easier to change the colour of your door as your home design adapts over time.
How long do aluminium doors last?
Aluminium provides a long-lasting alternative to other door frames and can last anywhere between 20-35 years plus, depending on the climate.
How much are aluminium doors?
Here at Gallagher Brothers, we understand that every job is different, which is why we provide free quotes so you can find the best aluminium door solution for your home.
How do you clean aluminium doors?
One of the key benefits of aluminium doors is that requires little to no cleaning compared to timber doors. To clean your aluminium doors:
Spray your aluminium doors with a light coating of water
Scrub the doors with aluminium cleaner, or if you don't have any, detergent will do just fine
With a cloth wipe the entirety of the aluminium door to ensure no spots are missed
Thoroughly rinse with clean water and you're done!
What guarantee do you offer?
We offer a lifetime guarantee on the installation and workmanship. If you have any problems at all, call us and we will fix it for you as soon as possible. There is a seven year manufacturer's guarantee on the windows and doors.
Do you look after the whole job?
Yes, we work with you to find the best products for your needs, measure the openings, remove the old windows and supply and install the new aluminium windows, as well as tidy up the work area and dispose of the old windows. Gallagher Brothers Aluminium takes care of everything.
Will I get a fixed price for the job?
Yes, we offer a written quote for the whole job and a fixed price. No surprises!